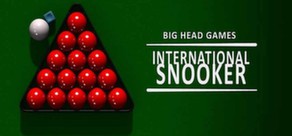 http://store.steampowered.com/app/299500/
At the risk of being completely random, let me talk about International Snooker. Like many people, you may have purchased the 8 ball bundle hoping for a decent sports game or two… or to get Pool Nation which looks fancy (but I didn't enjoy, see below). You may then be disappointed to see that all the other games are pretty much glorified spreadsheets. They are also not even that glorified.
International Snooker is different and I think well worth a look. Unlike the other games, you actually get to play the sport in question, which is snooker. From there, things are pretty standard except for one key difference. Each shot is more like a simulator than an arcade title. Whereas in Pool Nation you are lining up a shot and then wiggling the mouse to guess how strong to hit the ball, International Snooker takes an unusual approach.
You still line up your shot, with a variety of helpful indicators to let you know what will happen. But here you actually select your shot strength from a slider, with graphical cues to help you out here too. When you are happy with your shot? You basically hit the go button and it all plays out in front of you.
What this does is changes the game from an arcade experience, to almost a turn based strategy affair, which I find completely appropriate for the sport. While it may not hold your attention for long, it at least gives a subtle, but different spin on the genre and hence becomes my bundle "top pick".
Also Top Golf Pro 3 is worth a look. Because fuck me somebody put some effort into something that I can't see anybody, ever, wanting to play.